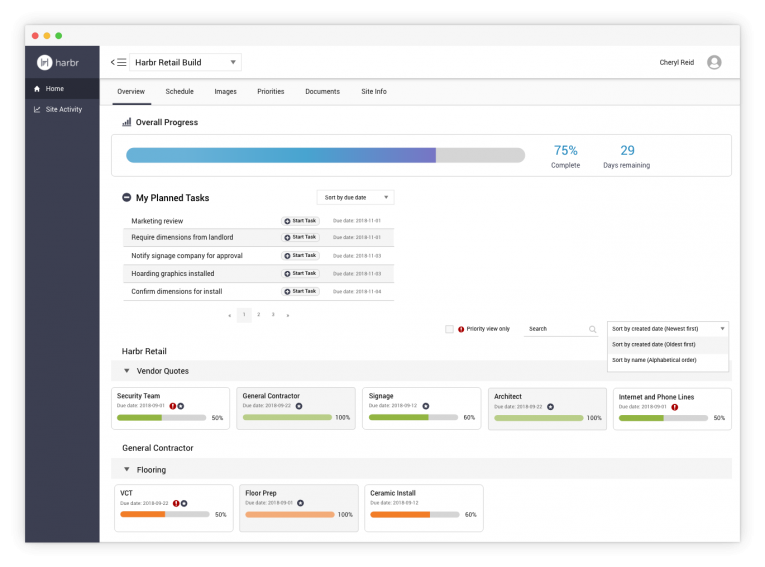 Partners that are Harbr Certified means that they are experts in field reporting.
Optimized for speed, control and clarity. Harbr manages the flow of information between multiple projects, vendors and contractors in real-time to ensure all team members are well informed.

We help your vendor and contracting partners make your rollouts more successful. It's Work Management done right.

From a GC's Perspective
– Jim A. Director of Construction
The issue tracker has become a great tool to not only force the project team to come up with timely solutions, but it allows our leadership team to jump in and provide support as needed, thus minimizing schedule delays and cost overruns.

Here are the items we track and file daily with this app.

All subcontractors on-site each day (Company names, employee counts, daily tasks, issues or concerns)
Material and rental deliveries
Site visits from authorities having jurisdiction
Client site visits
Weather, dates and time of activities
Progress pictures for action items
Issue Tracker – Alerts can be sent out to the project manager or anyone in the company. i.e. sub trade not showing up on-site, site condition concerns or anything that may affect safety and schedule

Our site personnel are really buying into this tool and as a leadership team, we love that we can have a real-time pulse on our projects and make sure that our clients expectations are being met.

What does HARBR CERTIFIED mean?
Your field crews work with the Harbr App to secure a solid audit trail and drive your real-time work management schedule. Being HARBR CERTIFIED means your field crews are committed to excellence in collaboration, cooperation, and execution.

The Harbr Success Team works with you to make training simple and effective. With unlimited support for your entire project team we ensure every single person can be as successful as possible. We handle all of the heavy lifting to keep you moving.